Team Ireland at the 46th World Skills Competition 2022 in South Korea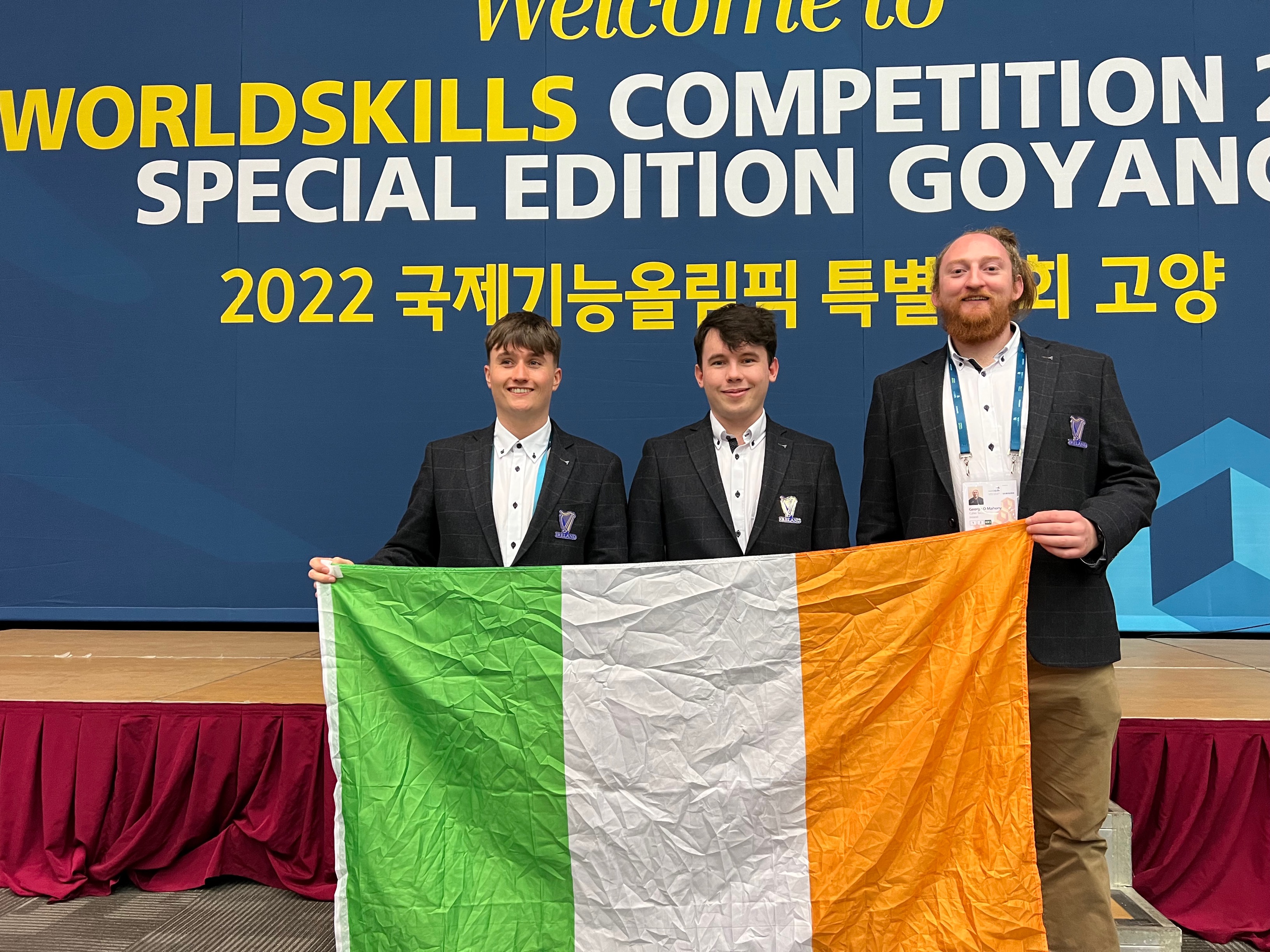 In anticipation of the World Skills Ireland event, sponsored by Janssen, in the RDS, Dublin in September, Dr George O'Mahony, World Skills Ireland expert for cybersecurity and Dylan Smyth, both lecturers in the Department of Computer Science at Munster Technological University, led in the development of the new cybersecurity competition.
The World Skills events in Ireland included two preliminary rounds, an online team selection in April and the in-person final in the RDS.
To prepare the competitors for the upcoming national final, the lecturers utilised a sophisticated cybersecurity infrastructure called a cyber-range which is available through Cyber Skills, Ireland's only cybersecurity education provider, to use this state-of-the-art infrastructure. The cyber-range can test the competitors' skills by simulating cybersecurity attacks. This provides the competitors with a realistic experience when combatting threats and solving challenges.
The winners of the national final at the RDS in Dublin were Cybersecurity Analyst at Dell Technologies, Darragh Healy, and CPT Researcher at Cyber Skills MTU, Dean Brennan, who were awarded the 2022 HEA Silver Medal and the opportunity to represent Ireland on the world stage at the 46th World Skills Competition 2022 Special Edition in Goyang, South Korea.
Prof Donna O'Shea, chair of Cybersecurity at Munster Technological University said: "Now, more than ever, cybersecurity skills are critically important to the success of enterprise. This is a fantastic opportunity for Ireland to showcase our talented young professionals on a global stage. The competition focuses on the critical requirements for a successful career in cybersecurity and provides an opportunity to highlight the importance of cybersecurity skills and professionals in our everyday lives, who protect our businesses, government, and citizens from cyber-attacks."
MTU Cybersecurity lecturer and researcher, and World Skills Ireland Expert for Cybersecurity at the 46th World Skills Competition 2022 Special Edition in Goyang, South Korea, Dr. George O'Mahony said, "This was the first time Team Ireland participated in the Cybersecurity Skill. Darragh and Dean performed incredibly well all week in this highly challenging and competitive international competition. They were tested on everything from service configuration to network defence, forensics and of course, Capture the Flag challenges. Although there were no medals on this occasion, it's safe to say, these two have an incredibly bright future ahead and represented Ireland brilliantly. I think it's a testament to them that they want to stay involved with Worldskills Ireland and help with the next team for 2024 in Lyon."
To get here, Dean and Darragh had to be successful in a series of intense competitions and extensive training sessions and spent countless hours working and studying in preparation for the international final.